Meet the Dream Team
MOST EXPERIENCED BROKERS  ON ISLAND…WITH OVER 30 YEARS COMBINED REAL ESTATE EXPERIENCE !
DEDICATED TO COMMUNITY AND COMMUNITY INVOLVEMENT !
IT MAKES A BIG DIFFERENCE !
Making Dreams come true..at the end of the Rainbow!
Lin Wetherby – Owner/Broker  Lic. #7941
cell# 787-380-4990

Gustavo Marin – Associate Broker Lic. # 9905
cell# 787-225-5604
Jenny Burke – Office Manager/Rental Assistant, cell# 787-435-2063
Cyndi Casey Thomas– Rental Assistant
Lin Wetherby started Rainbow 19 years ago from a small desk in her house and handing out business cards as a guide for Bio-Bay Tours…. She's lived in Vieques for 21 years, previously from the Northampton Mass. area, and former owner of the NorthStar Restaurant/Club there. Former VP of the Vieques Chamber of Commerce.
 Gustavo Marin's ancestors are Viequense…. A Broker for over 15 years, he joined Rainbow 14 years ago after he and his wife moved from San Juan. They owned/operated Bayaonda Restaurant , which we hope to see opened again someday!!  Wanda continues offering Artisan Breads for sale and you can buy these tasty treats at the Vieques Farmer's Market on Tuedays.  They have an adorable 13 year old, Ursula,  and have established a Montessori School here on isle. He is also on the Board of the Vieques Conservation/Trust
.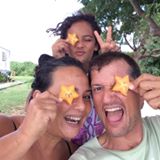 Gustavo is a Judo Black Belt and founder of the Martial Arts Studio and School as well as an instructor for children and adults on isle and a leader for the local kids in Big Isle competitions. …and you will see him riding around on his Vespa…
SERVICIOS EN ESPAÑOL:
Gustavo Marin habla español, y esta en la mejor disposición de asistir a aquellos que desean comunicarse en español.
Call either one of us and we will assist you in making your dreams come true….
We are committed to offering you the best service POSSIBLE…and based on the most experience…
…. SO, if you have truly decided you must own " A Slice of Paradise"…
We offer the largest selection, price range, and variety of listings on island!
JENNIFER BURKE, also known as Jenny or Jen, is living her dream!  She moved to Vieques just a few short months ago (May 2015) and just became Rainbow's Office Manager.  She bought a little Caribbean Cottage and this is home, after starring on one of our HGTV Caribbean Life episodes!!!  She loves to garden and volunteers at the Vieques Humane Society.  In addition to her bright smile,  Jen is upbeat, extremely helpful and dedicated to meeting our clients needs, and has a very positive attitude.
Cyndi Casey Thomas, has lived here for many years with husband and son, so is well-versed on the island…and we welcome her as our newest addition to the Dream Team!
…………………………
These galz will "hook you up" with your dream vacation property rental as well as answer all your questions!
SEE OUR POSTED HOURS ON OUR FACEBOOK PAGE TO KNOW WHEN IT'S BEST TO CALL…IF THE LAND LINE DOES NOT CONNECT, TRY THE CELL!!
We have a variety of rentals that meet every budget and group size…from basic accommodations to elite.
Call or email TODAY!
We are happy to help with ALL the details of a great vacation!!!