Vieques Island, Puerto Rico
Introduction
Posted 10/19/2010 |
in Realty Reality
Owning Real Estate in the Caribbean is a dream of many, but the reality of small island life is not for everyone.
If you have decided it is for you, stay right here as you have chosen the best, most reliable, most experienced, & knowledgeable company and brokers to work with!
MAKE YOUR DREAMS COME TRUE
…AT "THE END OF THE RAINBOW"…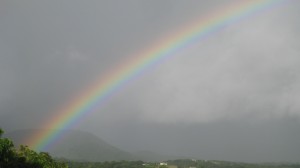 Specialized Real Estate Sales and Consulting including Market Analysis and Comparable Listing and Sales information . . .
This Realty Reality Section is meant . . .
1. . . . to provide some info about the island, AND in relation to buying/selling real estate here.
2. . . . to defray some misconceptions and share some reality about Vieques, the real estate market, and owning/renting here and services, etc.
3. . . . to address just a couple of the "political" issues surrounding real estate and sales/rentals here on island.
4. . . . to create a Buyer and Seller awareness of on island RE Agency "protocol", as it is commonly practiced here in Vieques, particularly among the Professionals that have worked here for many years.
General Buyer/Seller Info and LISTING TYPES:
Since we do not have a "MultiList" (MLS) System that is published and accessible to Clients and Brokers alike, the island Brokers have set up a loose-knit "island protocol" to keep the peace among brokers and help people navigate the market here safely while avoiding controversy.  Some of the Brokers work with all the other Brokers and therefore have access to ALL properties listed.  While we work with all Brokers to the benefit of the clients, some do not.
As a BUYER . . . and a SELLER . . . YOU SHOULD ASK when you are shopping for a Broker if they cooperate with all other Brokers to be certain you are viewing all available property on the island and if all potential Buyers have access to your property if you are a Seller.
We at Rainbow pride ourselves in having access to all properties for sale including making efforts for clients with For Sale By Owner (FSBO)  listings.
Sellers have various options to list their properties.
It is acceptable to contact all the Brokers and set up essentially an OPEN listing with everyone.  This can be done by contract or verbal.  One thing that IS very important, is that all agencies have and post the same property information, particularly the same price.  The inconvenience for a Seller, is that with an Open Listing you are working with multiple people.   Whoever brings a Buyer to the Seller and works the deal, is who gets the Commission.
Another option is to work with 2 or 3 brokerages and establish a CO- or MULTI-LISTED property.  Again it is important that all have and post the same property information.  These type of listings probably give the Seller the most "exposure" for their property for sale.  There are many Sellers who prefer to work with just one or two Brokers.   Whoever brings a Buyer to the Seller and works the deal, is who gets the Commission.
The final type of Listing is the EXCLUSIVE where only one Broker/Agency has a Listing.  IT IS VERY IMPORTANT IF YOU SIGN OR AGREE TO AN EXCLUSIVE THAT THE BROKER YOU ARE WORKING WITH, WORKS WITH OTHER AGENCIES!  If not, that Broker must bring the Buyer and the property exposure may not be ideal for the Seller.
CODE OF ETHICS: The Agent works for BOTH Parties (see Fiduciary Responsibilities) and the way we at Rainbow see "working a deal" is to assist in a "meeting of the minds" so that all parties are happy with the outcome.  We pride ourselves on writing a solid professional contract that protects the interest of ALL parties.
A BUYER can engage any Broker as a BUYER BROKER, to work just on their behalf and a Broker can do that on any property NOT listed by that Broker . . .  Just be careful of any conflict of interest possibilities . . . such as: an Appraiser who is also a Broker . . . Caution should be exercised if the Client is looking for an unbiased opinion of value.  Also, if the Broker has a personal interest in the sale property/this should be disclosed!  Another place to use caution is in working with the same Broker presenting multiple offers to a Seller for more than one client…and how that is done.
Brokers have a CODE OF ETHICS that applies to working with Buyers and Sellers . . . and other Brokers . . . and be certain that it IS followed.
Sellers: ASK QUESTIONS!
BUYERS: ASK QUESTIONS!
"Do you as an agent co-broker property with other brokerages??"
"How long have you been in Business in Viegues?"
"Have you had any other dealing with the owner/property in question?"
"How do you view your Role in transactions and negotiations?"
Etc.
Of course in a small intimate community, most everyone knows everyone and there are many friendships with clients . . .
Nothing beats Experience and Knowledge…
BROKER EXPERIENCE IS HUGE HUGE HUGE . . . YOU WANT A BROKER WHO KNOWS WHAT SHE OR HE IS DOING . . . AND THAT COMES WITH YEARS OF EXPERIENCE!  The two Brokers at Rainbow Realty have over 20 combined years of EXPERIENCE!  We have seen it all/done it all . . . and are GREAT Problem Solvers!  We provide that expertise and experience in working with our Clients and Customers !!  . . . a Truly great Benefit!   And . . . perhaps, most importantly, we do not disappear after the transaction is complete!  Check out our Testimonials for customer comments!
Buyers Beware…..
Since we do not have a MultiList System (MLS) it is VERY VERY important that you be UP FRONT and HONEST with the Brokers you contact and make sure they are also asking YOU questions, because they SHOULD BE.  Let the Broker know IF you have spoken to another Broker on island.  By doing this, everything is "above board" and keeps all parties out of potential problems and controversies.  Way too often here, Buyers will contact multiple Brokers and not say a word about seeing pictures or receiving information about a property through someone else first.  This creates issues for the transaction, but even more importantly, it sets up a NEGATIVE DYNAMIC for the Brokers here in Vieques to have to deal with . . . and it is a very very small community where we like to keep relations good.  So . . . PLEASE be respectful of this . . . be honest and forthcoming . . . and know that we all thank you for that!
Rainbow Realty represents to the public what the Sellers represent to us.  We recommend home/construction/engineering inspections be done in order to support the information as necessary.
Sellers Beware . . .
IF YOU WANT TO CHANGE BROKERS . . . tell that Broker you are making a change!  For the same reasons mentioned earlier, if you want to open up what has been an Exclusive or Co Listed property, TELL your Brokers!  Help us, Help you . . . and help us keep the "peace " here on this wonderful island . . . thanks!
Finding your way Around:
Last Updated 02/27/21